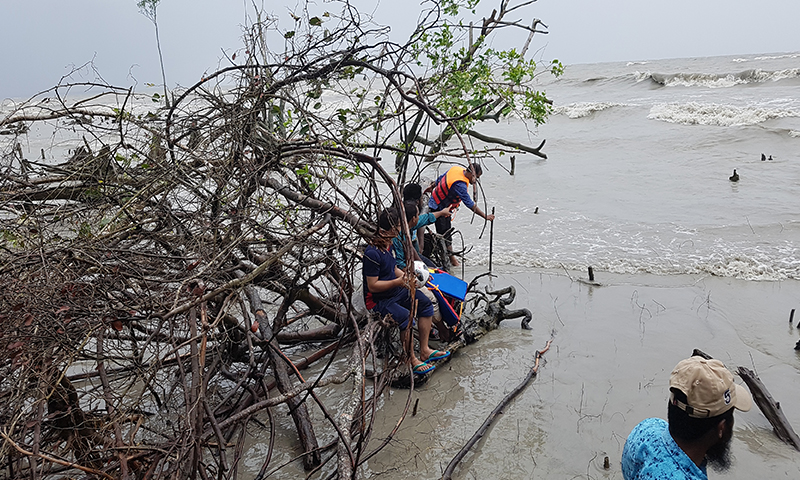 Sundarban Tour Package 1 Day . (Mongla – Sundarban – Mongla)
Best Sundarban Tour Spot.
1.Koromjol Mini zoo
2.Herbaria Eco Tour Spot
Sundarban Tour Itinerary
After Reached Khulna Bus Stand/Rail Station or Jessore Air port, our guide will receive all of you and shift the tourist vessel by ac/ Non ac car/ local transport. After reached Mongla our Sundarban Tour will start.
07.30 am-08.00am Start journey for Sundarban On Ship
08.30am--08.00am Breakfast On Ship
09.00am-11.00 am Visit Karamjol forest station
11.01am--11.30am Refreshment Any Snacks
01.00pm--02.00pm Lunch On Ship
02.00pm--04.00pm Visit: Harbaria Trip small creeks
by country boat.
05.01pm--05.30pm Refreshmen & Back Journey
07.00pm--07.30 pm End of Journey
After complete sundarban tour, our guide will see off you for your destination from Bus Stand/Rail Station or Jessore Air port.
1 day Sundarban Tour Food Menu.
Morning Snacks -
Apple(1p), Banana Biscuits, (Tea Available.)
Lunch –
packaet Lunch.
Sundarban Tour Package Includes:
Dhaka to Khulna to Dhaka A/C non A/C Bus.
Cruise Inside the deep forest with vessel.
Accommodation on vessel on cabin.
All Meals during the trip.
All activities inside the forest as per itinerary.
Mineral water for drinking during the trip.
Forest Fees & Permission.
Armed forest guard from the forest department.
An accompanied experience guide during the trip.
Tea, Coffee and Mineral water will be available.
Necessary Equipment To Be Carried on Tourists:
Our tour season start on the winter season, so tourist must
carry warm Jackets/Pullover to protect from cold.
Hat / Cap/ Sun-glass , Binocular & Flash Light.
Emergency Medicine Sun-Burn Lotion.
Snicker Shoes for walking.
Camera, Charger, Battery & Films.
Toothpaste & Tooth Brush, Towels, Soap & Shampoo.
SUNDARBAN WONDERS TOURISM.
04,B.I.W.T.A Launch Ghat Khulna, Bangladesh.
Cell: +88 01915440942 +88 01714848316
Email: Sundarbanwonders@yahoo.com
sundarbanwonderstourism@gmail.com
www.sundarbantourbd.com