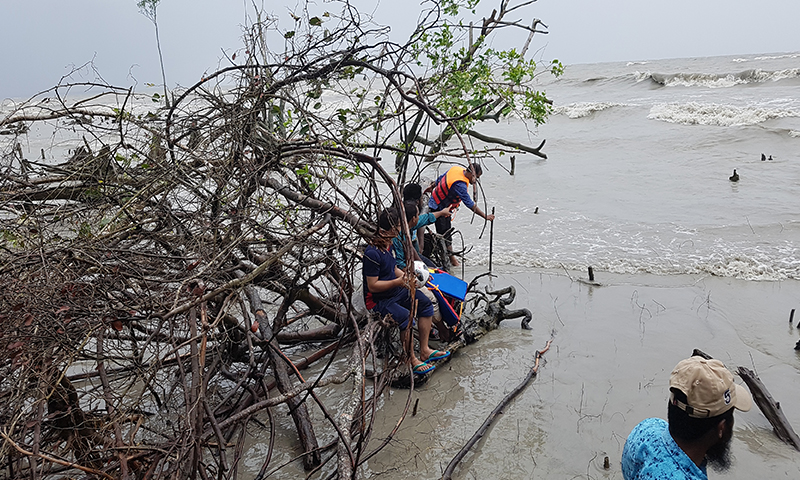 2 Night - 3 Days Karamjal (mini zoo), Harbaria eco tour spot,Katka office, jamtola watch tower, Badamtola sea beach & Dubla Island Rash Mela, Hiron Point Tour Itinerary.
Day-01 :
We will start our journey to Sundarban early in the morning from Khulna at 6.30am & take our breakfast. We will reach Daingmary Forest office at 10.30am and stay in here from 10.30am-11.00am for pay revenue and collect forest clearance and Guard (In the meantime we will take any snakes).At 11.00am our journey will start for Harbaria. In the meantime we will take our lunch. After lunch we will visit Harbaria Eco tour spot. We take refreshment and any snacks at 4.00pm to 04.30pm & our journey will to Dubla Island .After reached Dubla Island we will visit dubla Island and enjoy "Rash Mela" and cultural program. Then we came back our vessel and take our dinner and stay night here on our ship.
Day-02 :
In 2nd day early in the morning we will visit Hiron Point and came back in vessel we will take breakfast and start for Katka. After reached Katka, visit Jumtola watch Tower, Katka Beach and Beach walk, Jungle walk. Complete Our Visit Then Lunch After visit Katka office side we came back our vessel and Start For Koromjol .We will take our refreshment and dinner in time, and stay night Koromjol Forest Station.
Day-03 :
In 3rd day in the morning breakfast Then visit Koromjol (Mini Zoo). And we will start our back journey. We will take our refreshment and Lunch in time. We will reached Khulna at 07.00pm to 07.30pm. We will take our dinner at 07.30pm to 08.30pm.At 09.00pm our journey will be complete.
(Schedule may be changed by the discussion of authority and Tide)
SUNDARBAN WONDERS TOURISM.
04,B.I.W.T.A Launch Ghat Khulna, Bangladesh.
Cell: +88 01915440942 +88 01714848316
Email: Sundarbanwonders@yahoo.com
sundarbanwonderstourism@gmail.com
www.sundarbantourbd.com